It's a bit late to go into too much detail on why I like living near these guys in Animal Crossing, just wanted to make a quick post.
5# - Goldie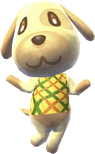 Who was in my town the same time as Cookie, although not as fun. She gave me the most gifts out of anyone in the town and they were always great stuff, anything I didn't use would sell for a decent amount.
4# - Stitches
3# - Drift
I loved that he said "brah" all the time, it was so funny. He moved before Cookie did if I remember right.
2# - Cookie
She was a dog which is always good and the things she said made me giggle.
Lately a friend linked me to a story about
his first crush and Cookie
, so I feel a bit awkward saying I liked her.
*Drum Roll*
1# - Flurry
She makes me smile every time I talk to her, her little tune, how she says things, her little blue eybrows (>w<).
I noticed when there's an event and everyone claps, her arms don't actually touch, I dunno if her arms are too small or she's too chubby but it's mega cute. She's the only villager to visit my house most days and I'd be devastated without her.