Big thanks to my BFF John who gave me a belated present today of a ? Block Sound Cube from Club Nintendo.
It's so cute and soft, but you can tap it on any square on the cube to make a noise, here's a
video example
(maybe I should hang mine up too).
Afaik from reading online, it was only available from the UK Club Nintendo Store,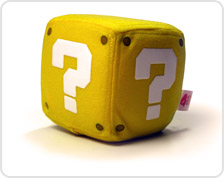 but I could be wrong, either way it's a really nice present.
Thanks again!